Friends of Connetquot Lecture Series
The Friends of Connetquot is constantly looking for exciting and new ways in which its members and the general public may experience the Preserve. We are happy that the lecture series we have presented in the past were so well received.
The Friends invite the public and all members to take advantage of this benefit. We hope to see you at each lecture and look forward to meeting you and answering any questions that you may have about the projects and programs you are so generously supporting.
Please Join Us at Connetquot River State Park Preserve, Main Building
Lectures are open to the public, so bring a friend along!
Free Admission and Refreshments - $8 State-mandated parking fee (none with a NYS Empire Passport) Applies.
Advance reservations required.
Please call 631-567-1331 or complete the form inside the lecture descriptions below.
Upcoming Lectures
Saturday, April 4, 2020 - 2:00pm - 3:00pm
Grow More with Less: Sustainable Garden Methods
We're sorry to announce this lecture has been cancelled.
Speaker: Horticultural expert Vincent Simeone
---
Sunday, October 11, 2020 - 11:00 am
Long Island's Vanished Heiress: The Unsolved Alice Parsons Kidnapping
Speaker: Former Suffolk County detective Steven C. Drielak
---
Past Lectures
Sunday, February 23, 2020 - 1:00pm
Speaker: Robert Müller; President of the Long Island Chapter of the US Lighthouse Society
Topic: Long Island Lighthouses; Past and Present
Long Island Lighthouses: Past and Present examines the history of more than 20 light stations over 200-plus years. It is based on Muller's 2004 book of the same name and his experience as a local lighthouse history researcher and preservationist. Images in the program range from the 1850s to the present and include lighthouse keepers, lightships, and lighthouses that no longer stand. Information includes personal stories about many of the personalities involved in this history.
Mr. Müller has been researching the history of our local lighthouses since 1998, having served as a volunteer at several of the area's lighthouses. He is currently a member of the Stepping Stones Lighthouse Preservation Committee. Mr. Müllerwas the founding President of the US Lighthouse Society's Long Island Chapter (2000-2005), a position resumed in August 2019, and a past President of the East Islip Historical Society.
Saturday, December 7, 2019 - 1:00pm
Speaker: Richard Panchyk
Topic: Forgotten Places and Moments in Long Island History
Long Island's history is filled with fascinating firsts, magnificent mansions and Interesting characters. Did you know that it was Long Island Pilot Earle Ovington that was the first to carry our country's airmail? Or that William K. Vanderbilt's Long Island Motor Parkway was our nation's first highway? Did you know that Muttontown holds the ruins of an exiled Albanian King's Estate? Or that Captain William Kidd may have buried treasure on Long Island? Richard Panchyk will discuss these and much more about the vanishing traces of Long Island's intriguing history.
Richard Panchyk is the author of 36 books on a variety of topics, including more than 10 titles on Long Island and New York City History. In total, his books have featured thousands of historic and present day photographs of New York's most fascinating Places. His most recent titles are Nassau County Through Time, Suffolk County Through Time, and Abandoned Long Island. Mr. Panchyk's latest books will be available for purchase.
Saturday, October 5, 2019 - 1:00 p.m.
Speaker: Paul Mateyunas
Topic: The Sporting Life
Learn about the sporting activities of the Gold Coast Estates in the early 20th Century. Mr. Mateyunas will talk about the houses, clubs and residents who played here. From the birthplace of American polo on the legendary fields of The Meadow Brook, to harbors that sheltered the grand yachts, come hear about our Island's great sporting history.
Paul J. Mateyunas, a native to Long Island's North Shore, has been fascinated by the architecture of Long Island since his early youth. Schooled in the US and Italy, Paul holds degrees in business and art history. His interest in historical preservation led him to work as a restoration consultant. Since the release of his book, North Shore Long Island: Country Houses, 1890-1950, in 2007, Paul has given numerous talks for museums, historical societies, and other institutions on the Country House Era. His second book, Long Island's Gold Coast was release in May 2012. He has appeared as a North Shore historian on the Travel Channel, Discovery Channel, BBC, and PBS's Treasures of New York, The Gold Coast. Mr. Mateyunas' Long Island's Gold Coast will be available for purchase.
Saturday, September 21, 2019 - 1:00 p.m.
Speaker: James Daniels
Topic: The Must See Hiking Destinations of Long Island
Take a hike! Get outside and explore the Long Island Pine Barrens' deepest secrets and more! James Daniels, author of The Must See Hiking Destinations of Long Island, and Westhampton High School Sophomore, will present a power point of only the best hikes on Long Island; such as the globally rare dwarf pines of Westhampton, the hoodoos of Montauk, and the 100-foot tall white pines of Prosser Pines County Park. The presentation was complete with pictures, maps, and the best hiking information available.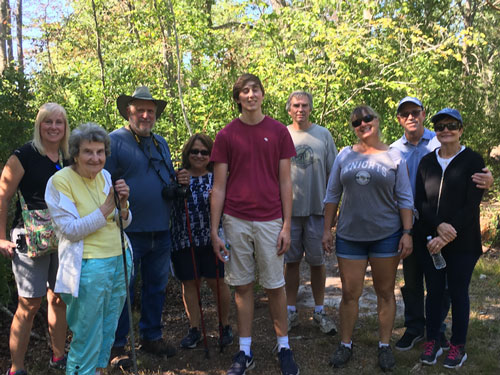 Saturday, June 22, 2019 12:00 - 2:00 pm
Speaker: Robert A. DiGiovanni, Jr
Topic: Getting Started with the Atlantic Marine Conservation Society & Seal Survey Training
Interested in helping Atlantic Marine Conservation Society (AMCS) promote marine conservation through action? Join us for an information session! We will meet to discuss what the organization does and how you can get involved, including joining our volunteer program, participating in a beach cleanup, attending a lecture, and more. Conservation starts with you!
Following our informational session we will be offering a Seal Survey training for those who are interested in volunteering for our seal cruise survey efforts this summer.
Atlantic Marine Conservation Society is an organization of Biologists and Volunteers with decades of experience in marine mammal and sea turtle research and response. Their Mission is to promote marine conservation through action.www.amcs.org
Registration for the lecture is free although seasonal parking rates apply.
Saturday, April 6, 2019 - 1:00 p.m.
Speaker: Tom McCoy
Topic: Fishing Connetquot River State Park Preserve
Tom McCoy's presentation demystified fly fishing. He introducd guests to simple techniques and flies that helped make time on the water as a beginner more enjoyable. Tom's slide show "walked" guests through the park and its fishing beats, how he fishes each site, how a fly rod works, and where a person just might find a big one. The presentation was followed by an optional hike with a tour of the fish hatchery.
Saturday, January 19, 2019 - 1:00 p.m.
Speaker: Paul J. Mateyunas
Topic: "The Gold Coast and the Real Gatsby"
Travel back in time to the days of Daisy Buchanan and Jay Gatsby learning about the families and some of the actual grand houses that inspired the book and movies. North Shore historian and author Paul J. Mateyunas will give a talk Hi about the history of the Gold Coast and the grand old estate houses. Mr. Mateyunas will autograph copies of his books North Shore Long Island: Country Houses, 1890-1950 and Long Island's Gold Coast. Long Island's Gold Coast will be available for purchase.
Saturday, October 20, 2019
Speaker: Kerriann Flanagan Brosky
Topic: "Historic Haunts of Long Island: Ghosts and Legends from the Gold Coast to Montauk Point"
Just in time for Halloween! On Saturday, October 20, the Friends of Connetquot hosted award-winning author Kerriann Flanagan Brosky, who discussed her book, Historic Haunts of Long Island: Ghosts and Legends from the Gold Coast to Montauk Point. Journey through Long Island's history as preserved in its ghost stories and spirits who have made their presence known, from Native American legends and beyond.
Saturday, March 24, 2018
Speaker: Ted Simroe
Topic: "A Short History of Fly Rod Design and Manufacturing"
Ted Simroe is an internationally renowned fly rod designer and Master bamboo fly rod maker. He led two of the major rod manufacturers during his business career designing and manufacturing outstanding products, many of which are considered valuable sporting collectibles. He now makes a small quantity of hand-crafted bamboo fly rods for individuals who can appreciate true excellence in a traditional American craft. He has given many talks and casting presentations over the years.
Ted's background: Owner Simroe Rods since 1988; Assistant Chief, Engineering at NYC Dept. of Env. Protection from 1990-2010 where he supervised the NYC Watershed Protection Program to ensure that NYC water met all USEPA drinking water requirements as an unfiltered water supply; Design Engineer at Rodon Manufacturing 1978-1988; Part Owner & VP H.L. Leonard Rod Co. 1967-1976 as chief rod designer and production manager; Asst. Professor of English at USMA, West Point 1965-1967; was educated at USMA, West Point where he earned a BS in Engineering; also attended Columbia University where he earned an MA, English and Comparative Literature.
Reserve a seat at this lecture:
Privacy Notice: Any information submitted on this form will be used only by the Friends of Connetquot in relation to our events and activities. We do not sell or release this information to any other entity.
Saturday, January 20, 2018
Speaker: Chris Kretz
Topic: "Straight Shooter in a Crooked World: The Fearless Life of John K. Hackett"
Join Chris Kretz for an interesting presentation that will examine John K. Hackett's life, his adventures, and his unique circle of friends - lawyers, politicians, artists, newspaper editors and sportsmen alike. Hackett lived life to the limit as only a man of the 19th century could. The fact that he was a founding member and the second president of the South Side Sportsmen's Club is only the start of it.
From a young man growing up mere blocks from the Five Points slums, drawn west to San Francisco during the Gold Rush, back to New York where he made a name for himself as an upright judge in the era of Boss Tweed, Hackett knew no fear. Renowned as the best pistol shot of his generation, he was not above wearing his guns in court or shooting coins out of the hands of his dinner guests. He survived beatings, assassination attempts, and political attacks.
The son of a famous acting family, he was a gifted mimic and practical joker who loved nothing so much as his guitar, his dogs, and his time spent hunting and fishing.
Chris Kretz is an academic librarian and co-author of Oakdale from Arcadia Press. He also co-hosts the Long Island History Project podcast, sponsored by the Long Island Radio and Television Historical Society.
Saturday, March 25, 2017
Speaker: Matthew M. Kaelin
Topic: "Long Island's Native Carnivorous Plants and Their Ecosystems"
Join Matthew Kaelin in an interesting photographic exploration of Long Island's carnivorous plants. He is the author of "The Sinister Beauty of Carnivorous Plants," and his vivid photography has been exhibited in fine art galleries. He has also authored natural history articles and won horticultural awards, as well as named two Nepenthes cultivars. With his life-long interest in carnivorous plants, Matthew often searches the natural habitats of Long Island's native carnivorous plant populations and regularly shares his observations with the New York Natural Heritage Program. Don't miss this wonderful presentation.
Saturday, January 28, 2017
Speaker: Dr. J. Bret Bennington
Topic: "The Shelter Rock Cycle: Igneous, Metamorphic, and Sedimentary Origins of Long Island"
Recap by Frank Konop
We are a nation of immigrants and today there is a renewed interest in our ancestry. Where did our ancestors come from, when did they come and how did they get here? On January 28th the Friends arranged an informative lecture by Dr. J. Bret Bennington, Geology Professor and Chair of the Department of Geology at Hofstra University to address these questions…not about us but about our rocks!
Dr. Bennington initially discussed the how and when. As many are aware, Long Island is the result of the termination of four glaciers, the most recent, the Wisconsin, occurring twenty thousand years ago. Glaciers typically advanced about one half mile in a decade and receded at the rate of a mile and a half per century. During each period of recession, material was deposited and sometimes washed to new locations by streams of melted glacial ice. Here and there about the island, especially along the north shore, one comes upon a seemingly misplaced boulder of enormous size deposited by receding ice.
The largest of these boulders stands on the west side of Shelter Rock Road on the Whitney estate in Manhasset. It measures 54/40/16, over 25,000 cubic feet. Another large erratic (as these boulders are called) is located southwest of Rocky Point; it measures 25/25/30 or 18,700 cubic feet and may well have given the town its name. This rock is on private property and Suffolk County Legislator Sarah Anker is attempting to protect it.
The last question addressed was the origin of these migrant boulders, which can travel far. Dr. Bennington's twenty year geology experience came to bear and he indicated that individual rocks are classified as igneous, metamorphic or sedimentary and chemical analysis can suggest their origin. Some believe these erratics were broken off the northern New England bedrock and carried south by the ice sheet. The lecture concluded with attendees showing rocks they had accumulated from all over the country and having them identified as to type and geographic origin. Uncannily, Dr. Bennington invariably was correct in his analysis. Perhaps the most interesting specimen was an extremely heavy black iron rock that had all the characteristics of a meteorite, which he deduced was a melted chunk of iron, perhaps from an old cast iron stove. It possibly was melted and used as ballast on an old sailing ship and then jettisoned.
Sunday, February 28, 2016 from 1:30 p.m. to 2:30 p.m.
Speaker: Frank Vincenti
Topic: "The Diverse Wild Canids of Long Island: Red Fox, Wolf, and Coyote"
Join Frank Vincenti, a self-educated expert on wild dogs of the world and founder of the Wild Dogs Foundation. His informative talk will include the current status of the Red Fox population of Long Island, the existence of a second fox species, former wolf populations that were here, and the arrival of coyote, a wolf-like animal that is recolonizing our area. What are the adverse and beneficial effects of these carnivores on the ecology of Long Island and its people? Can we coexist with resurgent carnivore populations? Come and find out.
Saturday, September 19, 2015 at 1:30 p.m. to 2:30 p.m.
Speaker: Bill Reed - Volunteer Tour Guide at Sagamore Hill National Park
Topic: "The Journey and Legacy of Theodore Roosevelt"
Join Bill Reed, who for the past three years has been conducting informative tours of the Roosevelt home in Oyster Bay, Long Island. Come and hear the fascinating story of Theodore Roosevelt who overcame a sickly childhood to become the youngest person to hold the office of President, and throughout his full and strenuous life garnered many other accomplishments: Naturalist, author, hunter, explorer, Rough Rider, winner of the Nobel Peace Prize, New York City Police Commissioner, trust buster, husband, and father. Theodore Roosevelt still leaves his mark on Americans and people throughout the world, and his policies are still relevant today.
Saturday, January 31, 2015 at 1:30 p.m. to 2:30 p.m.
Speaker: Mark Romaine, Docent of Connetquot River State Park Preserve
Topic: "The South Side Sportsmen's Club - The Place and the People"
Mark Romaine spoke about the history of the Connetquot River State Park Preserve many people love...from its start as part of the Nichol patent and later its life as a private sportsmen's club, to the preserve we know today. A time line of the different incarnations the Connetquot Preserve has gone through.
Saturday, September 27, 2014 at 1:30 p.m. to 2:30 p.m.
Speaker: Mark Romaine, Docent of Connetquot River State Park Preserve
Topic: "The Men and Activities that Developed Long Island's Original Gold Coast"
Several prominent men who regarded the south shore of Long Island as a sportsmen's delight first came here in the early nineteenth century to escape their demanding financial pursuits in New York City. Before long, they wanted to spend more time on the island and began building their luxurious country estates in the South Shore for their families to enjoy the ocean breezes of summer while they enjoyed hunting, fishing, sailing, and socializing with their peers. Join Mark Romaine, a volunteer docent of Connetquot Preserve and avid history enthusiast, in exploring the ways in which these powerful men influenced the growth of the South Shore and shaped not only the history of Long Island but that of New York State and the country.
Saturday, March 15, 2014
Topic: "Amphibians and Reptiles of Long Island"
The Friends' Lecture Series of 2014 opened on March 15th with Ariana Newell's presentation of "Amphibians and Reptiles of Long Island." This wonderful program was long in coming, as it had to be postponed last year. Ms. Newell, who is the New York State Parks Biologist for Long Island and New York City, declared her long-time interest in herpetology at the outset, but her knowledge and passion for this science was evident to the large audience that filled the historical dining room of the Connetquot Preserve's Main Building as she expertly and concisely shed light over the ecology, conservation, and habits of usually little-seen creatures, such as snakes, frogs, salamanders, turtles, and more that live in the Connetquot Preserve and other places of Long Island. She used photographs and live animals to illustrate her discussion, and she drew such deep interest in her audience that many remained after the question-and-answer period to ask additional questions or share relevant stories with Ms. Newell.
September 7, 2013
Speaker: Annie McIntyre
Topic: "Migration of Monarch Butterflies"
The last program of the 2013 Series was "Migration of Monarch Butterflies," with speaker Annie McIntyre. Beautiful and fragile, the monarch butterfly undertakes an arduous journey each fall and spring to and from Mexico. The annual migration cycle of this butterfly has been described as the most spectacular in the insect world. Come learn about this fascinating animal and learn about its life cycle, habitat requirements, and the challenges they face with the present threats to its breeding, migration and winter habitats. Ms. McIntyre is the L.I. Regional Manager of the Environmental Office of NY State Parks.
Click photos to enlarge
March 16, 2013
Speaker: Ginny Fields
Topic: "The Millionaire Men of the South Side Sportsmen's Club and the Beginning of the South Shore Gold Coast"
Ginny Fields, former NY State Assemblywoman and present Friends of Connetquot board member will discuss how the South Side Sportsmen's Club gave rise to the Islip and other nearby communities with her program "The Millionaire Men of the South Side Sportsmen's Club and the Beginning of the South Shore Gold Coast."
September 22, 2012
Speaker: Richard Remmer
Topic: "The Friends of Connetquot Vision for the Hatchery and Nicoll Grist Mill"
For more than four years, Richard Remmer, former president of the Friends of Connetquot, has led the Friends' Board of Trustees with untiring zeal and dedication in their undertaking of two huge, ongoing projects—the Restoration of the Nicoll Grist Mill and the Hatchery Upgrade and Renovation. In this interactive program, he will share the Friends' vision for these two historic gems within the Connetquot River State Park Preserve and invite audience input that will help refine the Friends' future plans for educational programs.
Saturday, June 2, 2012
Speaker: Roger Smith
Topic: "The Trout Will Return: Future Plans for the Connetquot Fish Hatchery"
The Friends are pleased to present Roger Smith, Principal partner of Burton, Behrendt, and Smith Architects and Engineers, PC, who will share the work being done to open the Preserve's Fish Hatchery once again. The work, a team effort being overseen by the Friends, includes interior and exterior renovations and upgrades that will make the hatchery complex bio-secure with a new supply of well water and water disposal system and include a new Rearing House and Educational Center.
Saturday, March 3, 2012
Speaker: Kurt Hirschberg of Jan Hird Pokorny Associates, Inc.
Topic: "Connetquot's Colonial Past Restored: The Preservation of the Nicoll Grist Mill"
Kurt Hirschberg, Project Coordinator for the architectural firm of Jan Hird Pokorny Associates, Inc. told the story of the restoration process of the Preserve's historic Nicoll Grist Mill. When complete, this structure will be a working testament of a technology that dates back about two thousand years and is part of the Colonial history of Long Island.
Saturday, September 10, 2011
Speaker: Jerry Trapani
Topic: "History of Horse Drawn Carriages: From New York City to the Great South Bay"
Jerry Trapani is an experienced professional farrier and noted competitor carriage driver who founded the Paumanok Driving Club of Long Island. He is also a member of the Carriage Association of America and has given seminars at the Long Island Museum of American Art, History and Carriages.
Saturday, March 19, 2011 at
Speaker: Shaibal Mitra
Topic: "Bird Migration Through Long Island"
Shai Mitra has studied birds in the northeastern United States and around the world for over thirty years. He has a BA in Biology and a PhD in Evolutionary Biology. Among other pursuit, Shai Mitra is an Assistant Professor of Biology at the College of Staten Island and editor of The Kingbird, a publication of the NYS Ornithological Association.
Saturday, September 25, 2010
Speaker: Linda Kasten, artist, past president of the now dissolved William K. Vanderbilt Historical Society, former employee of the Southside Sportsmen's Club, and present environmental educator in the Environmental Office of NY State Parks.
Topic: "From Sportsmen's Club to Park Preserve"
Saturday, June 19, 2010
Speaker: Harry W. Havemeyer, author of "Along the Great South Bay: From Oakdale to Babylon The Story of a Summer Spa 1840 to 1940." Harry Havemeyer is a four generation summer resident of the town of Islip. His ancestors first rented a cottage in 1884 and in 1889 bought a home in Islip.
Topic: The Cultural History of the Southside Sportsmen's Club.
Saturday, March 27, 2010
Speaker: Gary Lawton, Regional Environmental Manager, L.I. State Park Region
Topic: The Natural History of Connetquot River State Park Preserve