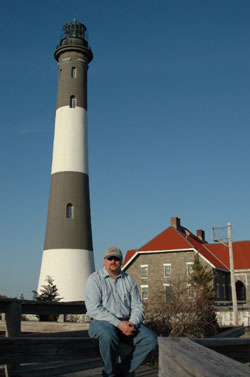 Presented by Robert Müller; President of the Long Island Chapter of the US Lighthouse Society
Long Island Lighthouses: Past and Present examines the history of more than 20 light stations over 200-plus years. It is based on Muller's 2004 book of the same name and his experience as a local lighthouse history researcher and preservationist. Images in the program range from the 1850s to the present and include lighthouse keepers, lightships, and lighthouses that no longer stand. Information includes personal stories about many of the personalities involved in this history.
Mr. Müller has been researching the history of our local lighthouses since 1998, having served as a volunteer at several of the area's lighthouses. He is currently a member of the Stepping Stones Lighthouse Preservation Committee. Mr. Müllerwas the founding President of the US Lighthouse Society's Long Island Chapter (2000-2005), a position resumed in August 2019, and a past President of the East Islip Historical Society.
Registration for the lecture is free although seasonal parking rates apply.
Register with the form below
Privacy Notice: Any information submitted on this form will be used only by the Friends of Connetquot in relation to our events and activities. We do not sell or release this information to any other entity.