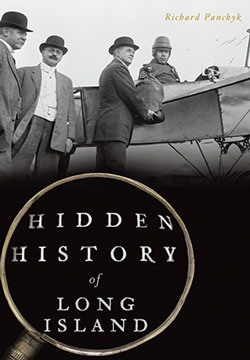 Presented by Richard Panchyk
Long Island's history is filled with fascinating firsts, magnificent mansions and Interesting characters. Did you know that it was Long Island Pilot Earle Ovington that was the first to carry our country's airmail? Or that William K. Vanderbilt's Long Island Motor Parkway was our nation's first highway? Did you know that Muttontown holds the ruins of an exiled Albanian King's Estate? Or that Captain William Kidd may have buried treasure on Long Island? Richard Panchyk will discuss these and much more about the vanishing traces of Long Island's intriguing history.
Richard Panchyk is the author of 36 books on a variety of topics, including more than 10 titles on Long Island and New York City History. In total, his books have featured thousands of historic and present day photographs of New York's most fascinating Places. His most recent titles are Nassau County Through Time, Suffolk County Through Time, and Abandoned Long Island. Mr. Panchyk's latest books will be available for purchase.
Date/Time: Saturday, July 20, 2019 - 1:00pm - 2:00pm
Registration for the lecture is Free although seasonal parking rates apply.
Register with the form below
Privacy Notice: Any information submitted on this form will be used only by the Friends of Connetquot in relation to our events and activities. We do not sell or release this information to any other entity.